Plastic woven bags are products made of polypropylene and polyethylene resin as the main raw material, extruded and stretched into flat wire, then woven and bag-making. Compilation density refers to 100mmx100mm within the preparation, the number of warp and weft yarns. Plastic woven bags have been further developed mainly from food packaging to industrial packaging, pharmaceutical packaging, building materials packaging, cosmetics packaging and other fields, its use and prospects will be increasingly broad.
Foreign production of the main raw material for polyethylene (PE), domestic production is mainly polypropylene (PP), is a thermoplastic resin made by polymerization of ethylene olefin. Polyethylene is odorless, non-toxic, feels like wax, has excellent low temperature resistance (the minimum operating temperature can reach -70 ~ -100 ℃), good chemical stability, can resist the erosion of most acids and bases (not resistant to acids with oxidizing properties), insoluble in general solvents at room temperature, small water absorption, excellent electrical insulation properties; but polyethylene is very sensitive to environmental stress, poor heat aging. The nature of polyethylene depends on the species, mainly on the molecular structure and density. Different production methods can be used to obtain products of different densities.
Batte is specialized in the development and production of melt filters/screen changers, melt metering gear pumps and accessories for more than 10 years. We know the characteristics of most thermoplastic materials and have accumulated rich experience in using the equipment.
Common materials: PP PE and other plastic pellets
Process characteristics: large amplitude, high output, high filtration precision
High torque, low shear, high corrosion resistance, very small pressure and flow pulsation, linear flow output, suitable for precision extrusion systems.
Processing temperature: 200-280℃
Processing pressure 3.0-10.0MPa
Output range: 100-1000kg/h
Solution: Non-stop double column screen changer + polymer melt pump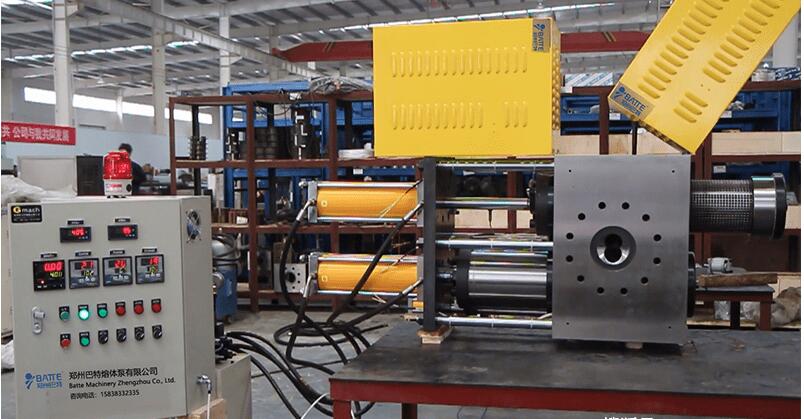 double pillar non stop screen changer
Double column large area screen changer it is built with alloy metal, precision processing, durable; no need to stop when replacing the filter, it can achieve 360 degree filtration, larger filtration area; rigid seal, superior sealing performance; with lead material exhaust structure, more stable and reliable; it is resistant to high pressure, low energy consumption. Filtration area: 300cm²- 6000cm²; Applicable industries: almost all polymer melt filtration; Applicable output: 450-10,000kg/h.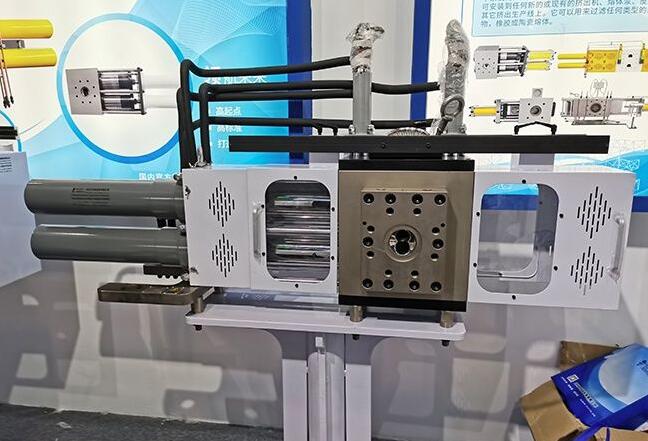 Double column large area screen changer filtration principle: The material flow is from the periphery of the plunger to the inside of the plunger. Under the same plunger diameter, the filtering area of double plunger large area screen changer is more than 4 times of its normal round double plunger screen changer. It adopts the heat medium fluid heating method, which can control the temperature fluctuation of the screen changer body within a very small range.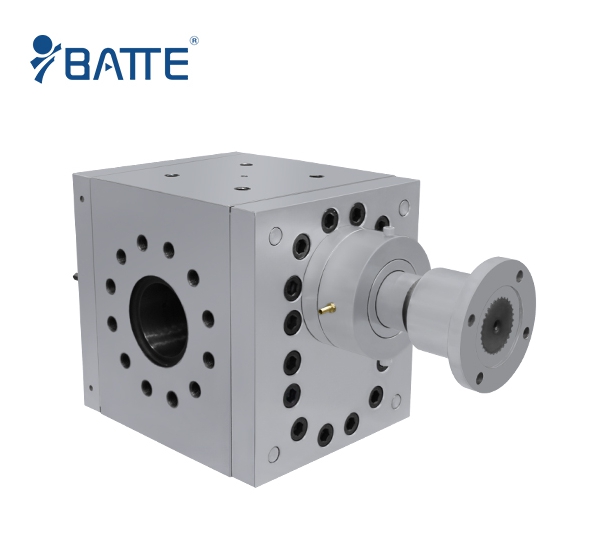 Spunbond nonwoven gear metering pump is suitable for conveying melt with relatively high viscosity and no particle-shaped impurities. It has the characteristics of high output pressure, high viscosity of the conveyed medium, high operating temperature, vacuum at the input port, easy adjustment of rotational speed, and large flow range. The material of spunbond nonwoven gear metering pump is made of temperature and wear resistant, corrosion resistant, with sufficient strength and dimensional stability.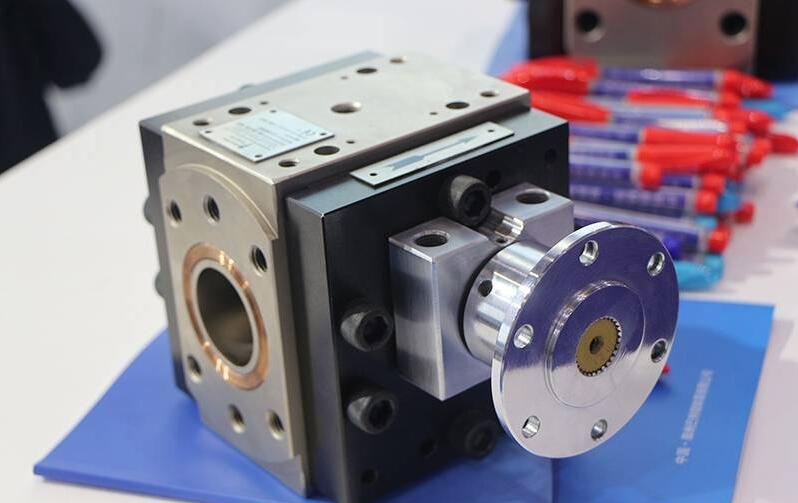 Gear metering pump application range
1、Applied to polymerization reaction process, used to transport high viscosity melt.
2、Applied to melt spinning, used as booster pump.
3、Applied to extruder or injection molding machine to improve extrusion efficiency and reduce the load of extruder.
4、Applied to transfer resin and molten resin to make the melt uniform and build pressure to the die head.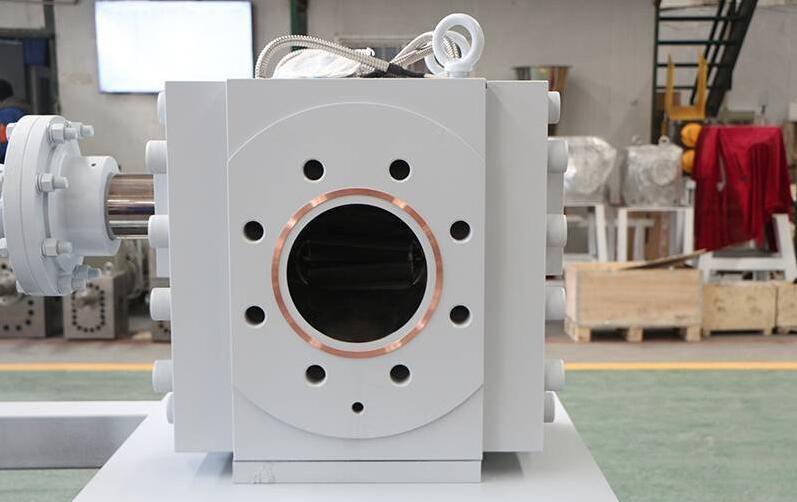 The working principle of spunbond nonwoven gear metering pump belongs to positive displacement pump, which relies on the change of working volume caused by the mutual meshing of master and driven gears to convey the melt when working. The working volume is composed of the pump body, the gear teeth groove and the bearing sleeve with side plate function. When the gears rotate, the melt enters the teeth grooves of the two gears in the suction chamber, and with the rotation, the melt is brought into the discharge chamber from both sides, and the gears mesh again, so that the melt in the teeth grooves is squeezed out of the discharge chamber and pressed into the outlet pipe. The bearings cannot use the usual lubricating grease to avoid contamination of the melt, and usually use melt self-lubrication.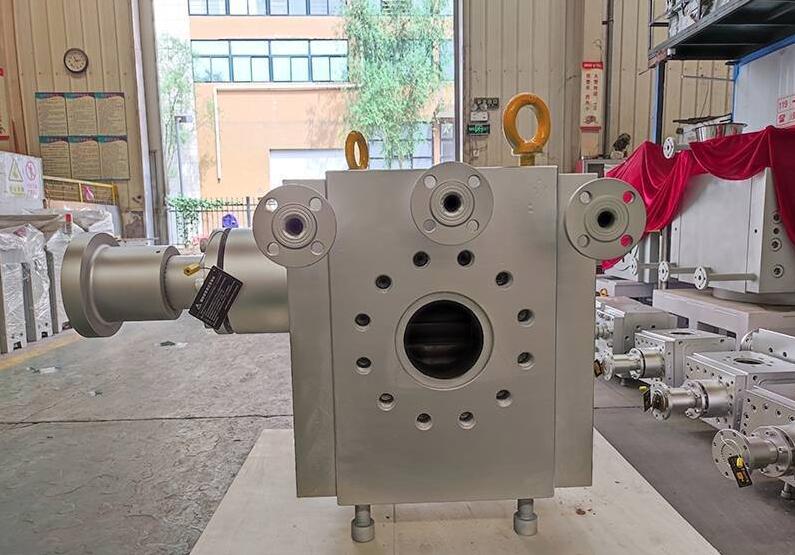 A complete set of extruder melt pump provided by Zhengzhou Batte includes: motor, reducer, universal coupling, control system and pump body; the structure of the pump body is: main pump body, front cover plate, back cover plate, 2 pairs of D-type bushings, main shaft, driven shaft, seals, etc. info@battemachinery.com