PET extruded sheet is widely used in the field of vacuum blister molding: food and beverage food packaging, toy boxes, stationery boxes, gift boxes and tools, fruit hardware and other packaging; in the field of antistatic applications: electronic parts packaging, permanent conductive sheet, permanent antistatic sheet, permanent semi-conductive sheet and other packaging; in the field of daily life applications: blister, folding boxes, packaging, printing, card making and other industries.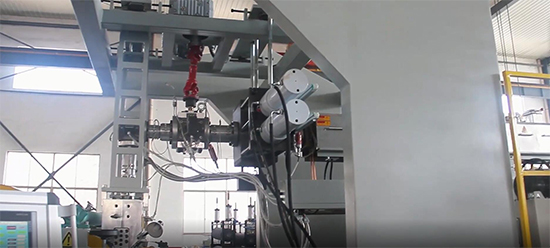 PET sheet has excellent transparency and finish, good display effect; excellent surface decorative properties, can be printed without surface treatment, easy to emboss patterns, easy metal treatment; good mechanical strength; good barrier performance to oxygen and water vapor; good chemical resistance, can withstand the erosion of a variety of chemicals; non-toxic, reliable health performance, can be used for food, drugs and medical equipment packaging, and Y-rays can be used to sterilize the items packaged; good adaptability to environmental protection, can be economically and conveniently recycled; when the waste is burned, no environmentally harmful substances are produced. It is gradually gaining great popularity among consumers and producers. PET/PLA extruded sheet production line is a new type of extruded sheet production line without crystallization and drying, which is consolidated and developed by our company by absorbing international advanced technology and integrating many production process formula systems, adopting precise three-roller calendering technology and unique patented technology of twin-screw combination Extruder, reducing the viscosity of raw materials, improving the cooling efficiency, adding melt pump and screen changer, greatly improving the quality and output of the sheet. The production line has green environmental protection and low energy consumption, simple process, convenient operation, compact structure, superior performance, uniform plasticization, stable extrusion and high output.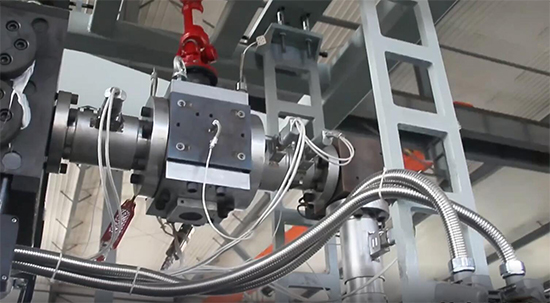 Batte is specialized in R&D and production of melt filter/screen changer, melt metering gear pump and its accessories for nearly 30 years. We understand the characteristics of PET flakes and have accumulated rich experience in using the equipment, so we can provide better solutions according to the customer's needs, the characteristics of PET flakes, production principle, common materials, process characteristics, heating temperature, processing pressure, yield, etc.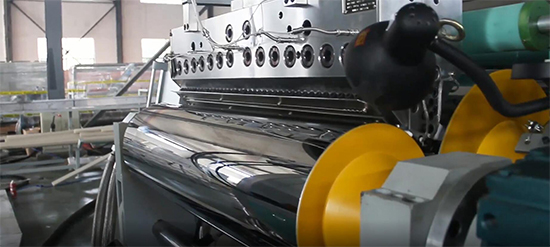 Common materials: PET flakes, PLA flakes
Process characteristics: high output, high temperature, high filtration accuracy, high viscosity, low pressure fluctuation, high stability and reliability requirements.
Heating temperature: 200~350 ℃
Heating pressure: 3.0-35.0 MPa
Output: 100-1,000 kg/hr
Product solution: PET sheet melt pump + double column screen changer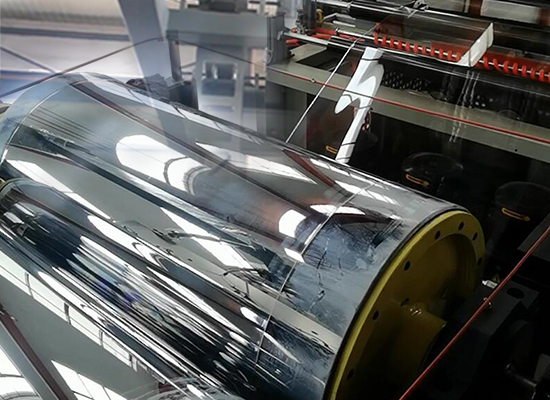 PET melt booster pump is mainly used for smooth and pressurized transport of medium and high viscosity medium in polymer fluids. The heating method is mainly heat conduction oil heating.
PET melt booster pump structure
Rotor type: Helical or straight cylindrical gear
Heating method: flow channel heating
Seal structure: melt dynamic seal + packing seal mechanical seal with cooling melt dynamic seal high temperature packing seal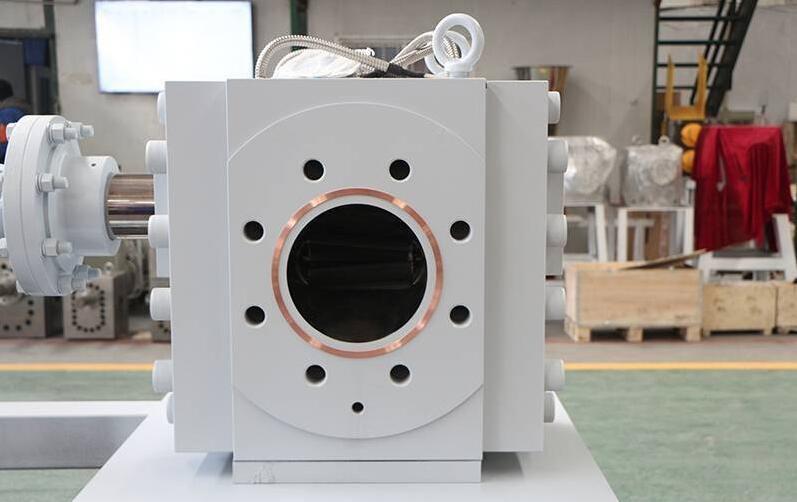 PET melt booster pump structure material
Pump casing: stainless steel/alloy steel/corrosion resistant alloy
Gear: Nitrided steel/tool steel/stainless steel + coating/corrosion resistant alloy
Bearings: tool steel/copper alloy/stainless steel+coating/corrosion resistant alloy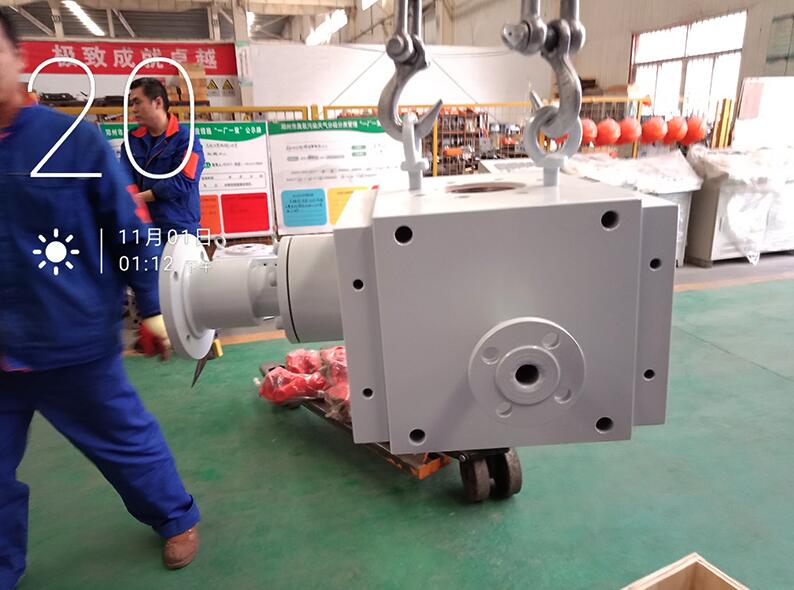 PET melt booster pump technical parameters
Conveying medium viscosity: 1~30,000Pas
Suction pressure: Vacuum ~ 16MPa
Output pressure: 0~35MPa
Permissible differential pressure: 25MPa
Operating temperature: ≤350℃
Heating method: flow channel heating
Heat medium pressure: ≤1.6MPa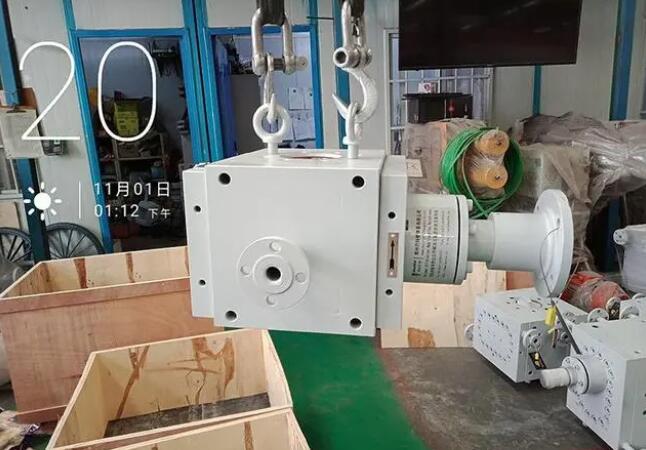 PET melt booster pump installation mode
The melt booster gear pump is usually installed in the melt pipeline at the bottom of the reactor to be used as a booster pump or metering pump, using a motor + reducer + universal coupling drive, the melt gear pump is a volumetric forced pump, the pump output flow can be adjusted by adjusting the pump speed, it is recommended to use the frequency conversion speed regulation method, which can realize the nearly linear flow output of the gear pump.
PET melt booster pump configuration
The complete set of equipment includes melt booster pump, import/export connector, drive system, control system, etc. Customers can choose according to the specific situation.
PET extruder screen changer adopts double column and double runner design, internal heating, fast heating, uniform temperature, two filters work at the same time during normal production. When changing the screen, one screen works and the other screen is replaced. The design of the priming and exhausting device, through automatic or manual control of the priming and exhausting, realizes screen changing without stopping, no leakage of material, uninterrupted material flow, small fluctuation of material pressure, small impact on production and good continuity. It is suitable for the production of various working conditions with continuity requirements.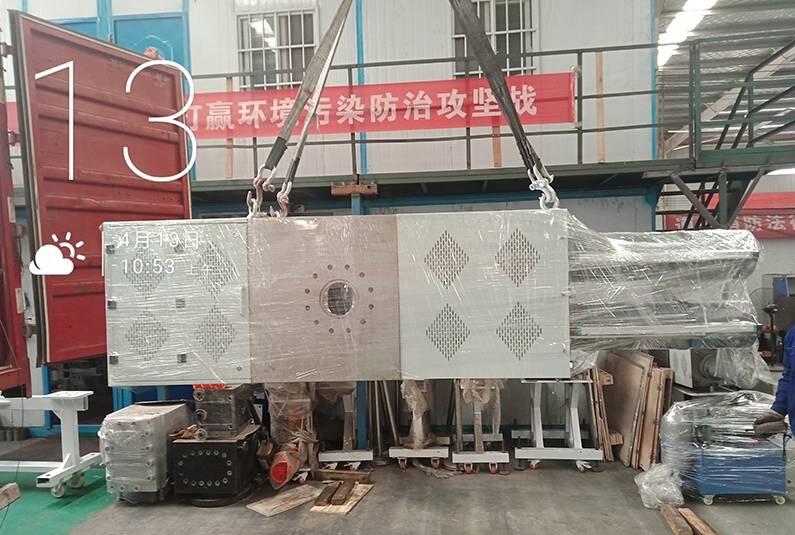 The main body and plunger of the PET plunger screen changer are made of heat-treated special steel; the precision gap control achieves excellent rigid sealing, providing excellent durability and reliability; the dual-station design provides non-stop screen changing; the PET plunger screen changer has a large filtering area and high efficiency; the screen changing pressure fluctuates little, the material flow is stable, with little impact on production and good continuity; the internal heating is used, with fast and uniform heating.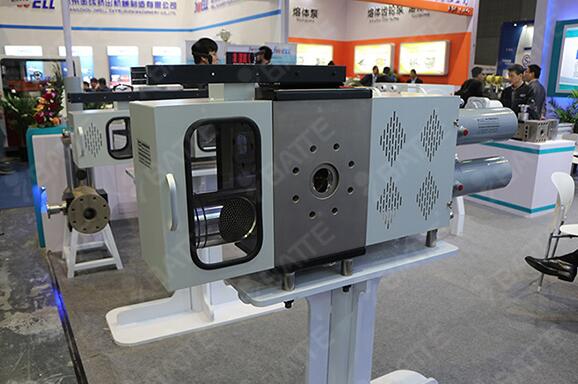 (1)There is a "dedicated" exhaust mechanism and flow channel, which can drain the gas in the new screen when changing the screen to keep the pressure balance of the screen changing and completely solve the problem of "air bubbles".
(2) The exhaust position is also the preheating position of the net block, which can ensure the same temperature of the net to be changed and the net to be changed, avoiding the low temperature of the new net block leading to the crystallization of the melt and the deterioration of fluidity and even the appearance of crystal points.
(3) ordinary net changer is a filter (porous plate) carrier directly in contact with the plastic melt, because the net needs to move back and forth friction, which is very easy to produce black spot impurities, the net clean and then ineffective, because it can not directly clean the carrier. The special screen changer is different: the screen (porous plate) and the carrier become a whole into a net block, and let it be recycled to move in one direction, avoiding the generation of black spot impurities, plus the net can be taken down together after the change to clean, clean net block and then put on the new screen absolutely no black spot impurities.
(4) The fluidity of PET is excellent, and in order to maintain the stability of the mechanical rigid seal of the screen changer, the steel used is more wear-resistant and heat-resistant than the general screen changer, and the flow path is smoother.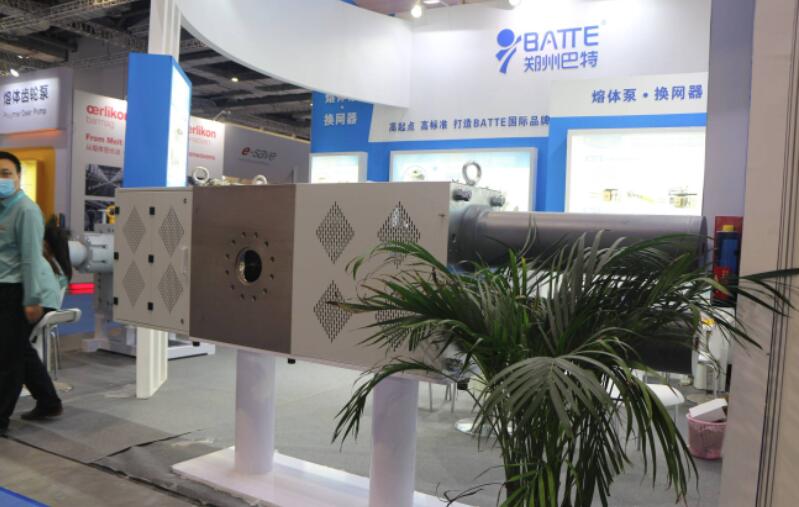 Batt melt pump, screen changer is mainly used for high temperature and high viscosity polymer melt transfer, pressurization, metering, filtration. It is widely used abroad in the extrusion of plastics, resins, rubber and chemical fiber products. Such as: pelletizing, film, pipe, plate, sheet, artificial fiber, optical fiber, medical plastic catheter and other industries. info@battemachinery.com