The role of plastic sheet melt pump in the extrusion system
Zhengzhou Batte, as a professional plastic melt pump manufacturer in China, provides plastic sheet extrusion pump to make great improvements in structure and performance; melt pumps are usually used with single-screw or twin-screw extruders in plastic processing, which can further homogenize the melt with stable pressure and pulsation-free material output, which can improve the quality of products. This equipment is not only used for plastic melt pelletizing and mixing, but also for extruding sheet, pipe, film and profile industries.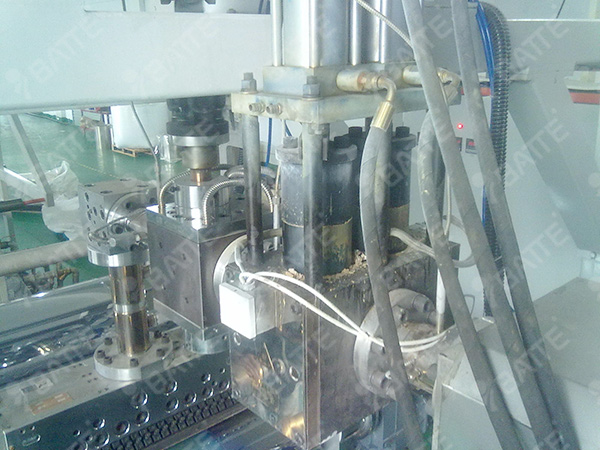 Melt pump and double column screen changer for PET sheet
Melt pump as a higher pressure container containing a variety of different melts, some of which are more corrosive. Therefore, the pump body is required to be made of alloy steel or stainless steel. However, the pump body of stainless steel has high cost and low mechanical strength. The general requirements for the pump body are light weight, high strength and good stability. And Zhengzhou Batte melt gear pump meets this demand by choosing high wear-resistant and corrosion-resistant high-temperature alloy steel material to meet the extrusion of most commonly used plastics.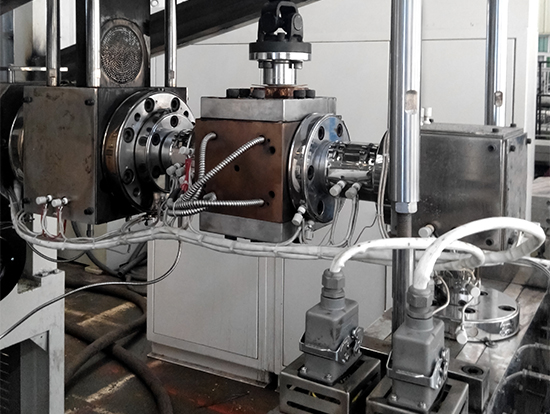 PP plastic sheet extrusion pump
Melt pump in plastic sheet extrusion system plays a big role in:
1. Reduce the dimensional tolerance of extruded products to a smaller size, so that more products can be made per unit weight of material. In the extrusion of products with tight dimensional tolerances or products with more expensive raw material costs, the use of melt pump is more necessary and more valuable.
2. It is possible to use several small and medium-sized extruders to feed one melt pump at the same time, and the melt is pressurized and measured by the melt pump and then supplied to the head to extrude large products (large diameter pipes, wide sheets, films, etc.). This configuration of the production line is compact and covers a small area; the cross-sectional size of the extruded products is more accurate and easy to control.
3. By adding melt pumps and extrusion heads for tubes, plates, films, sheets, etc. to the original single-screw or co-rotating twin-screw pelletizing extruder, the pelletizing process can be omitted and the products can be extruded directly. This system is ideal for extruding products with materials that need to be co-mingled and modified.
4. Combining a co-rotating twin-screw extruder with a melt pump into a blending extrusion pelletizing line, the blending quality and output are substantially higher than those of a separate twin-screw pelletizing unit. The energy consumption per kilogram of material processed can generally be reduced by about twenty-five percent.
zb-b melt gear pump for plastic hdpe sheet extrusion
Polymer melt gear pump has been widely used in chemical fiber, granulation, plastic film, sheet, plate, profile, pipe, wire and cable, wire drawing, compound extrusion and other production lines, can process materials almost cover most polymer materials, such as: PE, PC, PP, PVC, HIPS, PMMA, PS, PA, TPUR, fluoropolymers, polysulfone, polyester, thermoplastic elastomer rubber, and thermal adhesives, etc.
Email: info@battemachinery.com
Whatsapp: +86 158 38331071
pre:Application of casting biaxial stretching film production in gear melt metering pumps
next: The Function and Characteristics of Thermoplastic Material Extrusion Melt Pump