Miniature Rubber Gear Pump Extrusion
Miniature
rubber gear pump extrusion provide solutions for rubber processors for the
continuous preforming or extrusion of almost any form of rubber compound be used with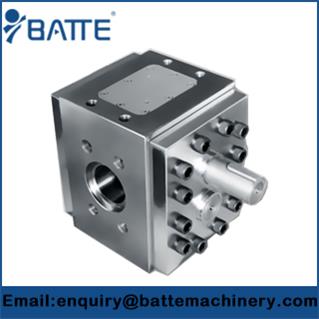 Miniature
Rubber Gear Pump Extrusion Advantage:
1.Updated product design.
2.Optimized materials selection.
3.Increasing the extrusion output and improve the product's quality and quantity.
4.Prolonging the working life.
Miniature

Rubber Gear Pump Extrusion Details:
Blown film and cast film (Bubble pack, Medical, Food Wrap)
Sheet (Foam, Strapping, Plastic cardboard)
Coating (Hot melt adhesive)
Pipe ( Corrugated, Gas Pipe) and profile
Compounding (Master batch, filler)
More details of our melt pumps ,pls feel free to contact us,thanks so much!
Welcome any of your inquiry about the gear pump you are interested in and greatly
appreciate any comments or suggestions.
If you are interested in any our products, Welcome to inquiry.Thank you! Batte look
for forward to your favorable reply.

Relative Articles:
◆How To Improve The Productivity Of The Screw Extruders
◆BATTE Circular Melt Pump
◆Melt Pump For Screen Changers
◆Batte Melt Pump Installation Diagram
pre:Vacuum Venting Screw Extruder Machine And Melt Pump
next: Thermoplast Melt Pump